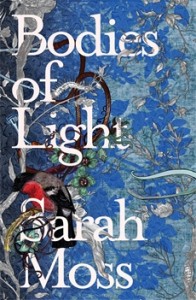 Bodies of Light is about a family of artists and social reformers in Victorian Manchester. Alfred Moberley is a painter who expects his daughters to model for him, unhappily married to Elizabeth, an Evangelical Christian who devotes her time and energies to reforming the poor and rescuing fallen women. Their daughters, Alethea and May (familiar to readers of Night Waking), grow up navigating conflicting expectations and under intense pressure to live and work in the vanguard of nineteenth-century feminism. As she nears adulthood, Ally determines to be one of the first generation of female doctors in Britain, and the second part of the book follows her career through the first medical school open to women in this country.
I knew quite a lot of May's story when I finished writing Night Waking, although most of it wasn't part of that book. It grew in my mind, another novel taking shape in the context of my academic interests, this time in the histories of arts and crafts, the development of English feminism and a long-standing fascination for medicine. It's the story-telling part of medicine that attracts me, the way we go to a doctor with one story and expect to come away with another, and the way doctors are like editors, deciding which bit of our story to keep and which bit is extraneous to the next draft, the diagnosis. I think doctors have long known that the 'patient histories' they take are shaped by narrative tradition, but often, I think, a diagnosis is also a story, shaped by a different tradition.
I'm relieved that reviewers are recognising that Bodies of Light isn't meant to be a nineteenth-century novel. There are plenty of those and no possible need to write more. All fiction is historical because the writer must always know, and the reader must always believe that the writers knows, how things end. Past-ness is built into the form of the novel, because the book is finished before it is read. Once we've understood that, the details of historical setting are just one of the pleasures of reading and writing; if the genre of 'historical fiction' exists at all, I'd argue that it's a political entity, a way of taking a longer view of the present day. Novels set before living memory are far more about the readers' and writer's present than about the past. I found myself thinking as I wrote Bodies of Light under a Tory government obsessed by austerity that we are coming full circle, hearing again mid-Victorian ideas about poverty, and the twentieth-century interest in equality of opportunity and social justice may turn out to be just a phase of English history. It's a phase about which I plan to go on writing.
Meanwhile, I've loved the covers of the first editions of all my books – wherever two Granta authors gather together there is delight in cover design – but even when I'm not feeling particularly happy about my writing the sight of Bodies of Light makes me smile.  Thank you to Michael Salu and Timorous Beasties.
Bodies of Light was shortlisted for the Wellcome Prize 2015.
Reviews of Bodies of Light include:
Alexandra Harris, The Guardian
Gabriel Weston, The Lancet
GrrlScientist, The Guardian
Fiona Wilson, The Times
Alexandra Gilmour, Financial Times
There is also an interview with Sarah:
Jenni Murray, BBC Radio 4, Woman's Hour