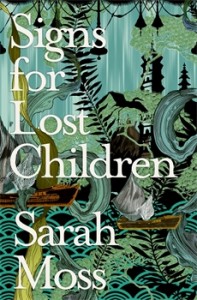 Signs for Lost Children is about the separation and return of a newly married couple in the late 1880s. Tom Cavendish leaves his wife Ally in West Cornwall as he sets out for six months' work in Japan, and the novel follows both of them as they change in each other's absence.
Ally is a newly-qualified doctor, beginning to specialise in mental health in an era that was only beginning to imagine madness as treatable. She travels daily from Falmouth to the women's wards of the Truro Asylum, where she tries to tease apart the causes and definitions of women's insanity, and not to be overwhelmed by the sadness she sees. Tom, a lighthouse engineer, has been employed to oversee the building of Japanese lighthouses, but is waylaid by a commission from a wealthy collector who wants him to bring back embroideries, netsuke and woodwork. Apart from each other, Tom and Ally move deeper into strange places.
The research for this novel was intense and beguiling: even more than usual, I felt that I was discovering and not inventing my story (in fact, of course, all discovery is invention and all invention is discovery, but it doesn't feel like that when you're doing it). I made two long trips to Japan and read pretty much everything published in English about Japan between 1870 and 1890. I was interested in Japan's challenge to British imperialism, because at the same time as 'opening up' to foreigners, the leaders of Japan in the Meiji era saw and avoided what had happened to many of their neighbours. The geopolitics meant that the experience of European travellers to Japan was quite different from that of visiting India or Sri Lanka in that time: even the men of the European élite were unsure of themselves, outsiders, strangers in a strange land. Feminised. Meanwhile, the first generation of female doctors was growing into senior roles in British hospitals, learning to handle institutional authority in a way that women had not done before. There was, so far as I know, no female 'mad-doctor' in 1880s England, but there could have been. So Tom and Ally are both gender-bending, compelled, if only by their own desires, to occupy new roles. Can their marriage survive?
Signs for Lost Children is longlisted for the International Dublin Literary Award 2017 and was  shortlisted for the Wellcome Book Prize 2016.
Reviews of Signs for Lost Children include:
Fiona Wilson, The Times
Hannah Rosefield, The Observer
Sarah Crown, The Guardian
Lucy Scholes, The Independent
Heather Doughty, The Herald
Eithne Farry, Sunday Express
Fran Bigman, The Times Literary Supplement
Michael Prodger, Financial Times
Cameron Woodhead, Sydney Morning Herald
There is also an interview with Sarah:
Jane Garvey, BBC Radio 4, Woman's Hour
'Sarah Moss is one of our country's most underrated writers… If there is one author you take a chance on this year, let it be her – it's time, and money, well spent' Fiona Wilson