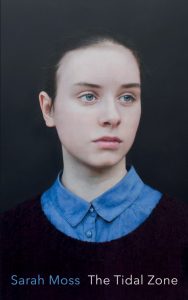 The Tidal Zone is about a rupture of ordinary life. Adam and his family live in a slightly-too-small house in a town in the middle of England. He is a stay-at-home dad, half-heartedly working on a history of the local cathedral. His wife Emma is a GP, wholeheartedly working long hours and never catching up. They have two daughters, fifteen-year-old Miriam who likes taking on the patriarchy and saying neo-liberalism and nine-year-old Rose, who wants a cat.
One day, during the lunch break at school, Miriam collapses because she can't breathe and then her heart stops. She is resuscitated. Life resumes. After a while in hospital, she returns to her ordinary family in their ordinary house, but nothing is ordinary any more, life itself now a fragile gift.
What happens to the family in my story is very rare indeed, but the truths they learn to live with are the ones that underlie all our lives. When I was planning the book, I found myself noticing all the near-misses I would usually forget in a day or two: the time spent sitting in traffic on the motorway waiting for the emergency services to clear up an accident for which we were ten minutes too late, only the time it had taken for one child to go to the loo before we left and the other to break and replace his shoelace; the time I was running on a country lane and didn't hear an electric car coming behind me as I swerved around a big puddle, causing some braking and swearing but nothing to change the course of the day or even the run. A gas leak down the street, a branch falling from a tree on the way to school: even here, even living well-ordered lives in a safe and peaceful country, we are very often a mere chance away from losing everything.
Adam finds himself turning to stories as the path of his own life falls away beneath his feet. He is not where he thought he was. The world is not as he thought it was. His narrative abrupts. The descendant of Austrian Jewish refugees returns to his father's stories, weaving narrative from unbearable history, making things in the aftermath of irreparable trauma.
I wanted to tell a story about living with the knowledge of mortality and harm, living well and intelligently and not being distorted by fear, and while I was thinking about this desire I was also exploring my new home and so I went to Coventry Cathedral. The Cathedral was designed and built after World War II, because the medieval cathedral beside whose ruins it stands had been destroyed by bombs one moonlit night in 1940. The architect Basil Spence had fought in the war and seen the burnt-out churches of France and Belgium, witnessed the deliberate destruction of Europe's heritage and history. Jacob Epstein, son of Polish Jewish refugees, made the sculpture of St Michael by the huge porch. John Piper, who made the stained glass, had in his sketchbook line drawings of the dead bodies on the roadsides of Germany at the end of the war. The saints and angels on John Hutton's West Screen speak of the first images of Holocaust survivors, skeletal and haunted. Coventry Cathedral is a building that teaches us to confront our trauma and then to look up, to acknowledge agony and still to make beauty. If my book can reflect that lesson in ordinary life, on the domestic scale, I have done what I dared to attempt.
The Tidal Zone was shortlisted for the Wellcome Book Prize 2017.
Details of events where I'll be discussing my books are now on the 'Events' page
---
Reviews of The Tidal Zone include
Fiona Wilson, The Times
Harry Ritchie, The Daily Mail
Graeme Smith, The Herald
Lesley McDowell, The Herald "This is grown-up writing for grown-up readers, the kind of story that makes you think about your own life choices and close relationships. Few novels do that with such depth and clarity as Moss's has done here."
Sarah Crown, The Guardian (with an interview)
Jane Graham, Big Issue
Penelope Lively, The Guardian "This is an intensely contemporary novel…"
Lucy Scholes, The Independent "Moss has written a new kind of state-of-the-nation novel, one that addresses big themes – mortality, parental love, 21st-century gender politics, even the NHS – all explored through the prism of one ordinary family, and within a narrative that's not so much about events, but rather the void where action and answers should be. Without doubt, she's one of the best British novelists writing today…"
Stephanie Cross, The Observer
Margaret McCartney, The Lancet "This is beautifully crafted, poignant storytelling.  The Tidal Zone is a sharply contemporary novel…"
Laura Slattery, The Irish Times
Jonathan Gibbs, Times Literary Supplement
Cassie Davis, Literary Review